Prada Pink Sandals
Many women have earned the reputation of being far from frugal with their fashionable footwear and shoe shopping sprees. While accessories and jewelry still play a role in the most fashionable closets, it's the shoes that seem to make the woman these days.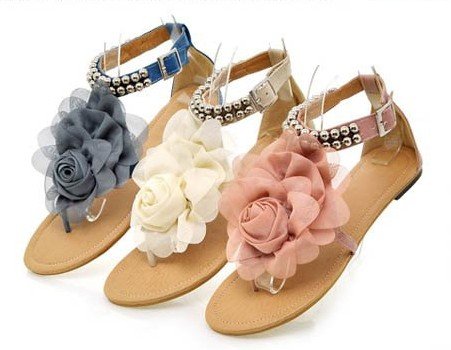 One of the best things to have on hand in the summer is a pair of pink sandals. I don't know how many times I've reached out for my pink sandals or how many times I've purchased a new pair. These
pink shoes
are great for having on hand since they match so many of the summertime outfits.
First, they are a great color. Whether you are matching them with white, tan, turquoise, black or any other color, a pair of pink dress sandals in the summer are sure to complement your girly outfit.
Second, it's a guarantee that if you love the color pink, you probably have it running through your dresses and t-shirts and wearing them on your feet is a great way to bring out the color in your outfits. Sometimes, if I don't have it in one of my outfits, I inevitable have a pink scarf that I can add to my outfit so I can wear my shoes. Or, I grab my pink clutch in order to have a matching accessory.
Third, because they are sandals, they are not overwhelming. What do I mean by that? The thing about sandals is that they are usually open-toe and strappy so the straps are pink, while the base is usually a dark brown or some other darker color. Therefore, it is not a glaring color, but rather one that peeps out from your feet. Your feet are the other base color, so basically, what you are doing is dressing up your feet in the color pink.
Fourth, how great is pink painted on your toes? It's summer and it calls for a pedicure. When you look at your choices, while red is great, pink is even better. It's subtle and demure and isn't as loud. It's feminine and pretty and brings out the blush in your cheeks. What I love about painting my toe nails the same color as my foot is that the whole effect just looks great. Therefore, why not buy a pair of pink sandals to match your pretty pink toes?
Finally, it matches your bikini. I know you probably all have one somewhere. That little pink bikini that you wear when you want to attract a certain someone? The one that says "come talk to me." I know it's not the same as a red or white bikini, but somehow, having a pink bikini seems to attract more men because it is understated. So, if you have a bikini, then you need to have the matching sandals in order to make your outfit complete.